Not knowing how enormous the effects would be, Australia closed its border on 20 March 2020. Nearly a year later, we are very much aware of the effects of Australia's border closures. We are waiting in anticipation for notifications from the government, that will provide us with clarity and perspectives on lifting the border restrictions. Australia's vaccine rollout could mean that there is a light at the end of the tunnel.
The current situation
Australia's very strict approach to the pandemic is the reason why the number of Corona cases in the country is comparatively low. As of March 13th, 2021, Australia reported a total of 29,112 registered corona cases. This includes 909 people who died from the virus.
Australia's national vaccine rollout strategy
Australia´s population will be vaccinated in 5 phases. Phase 1A is currently under way. In this phase 1.4 million doses are available, to vaccinate health care workers as well as quarantine- and border workers. The image below provides an overview of the rollout strategy: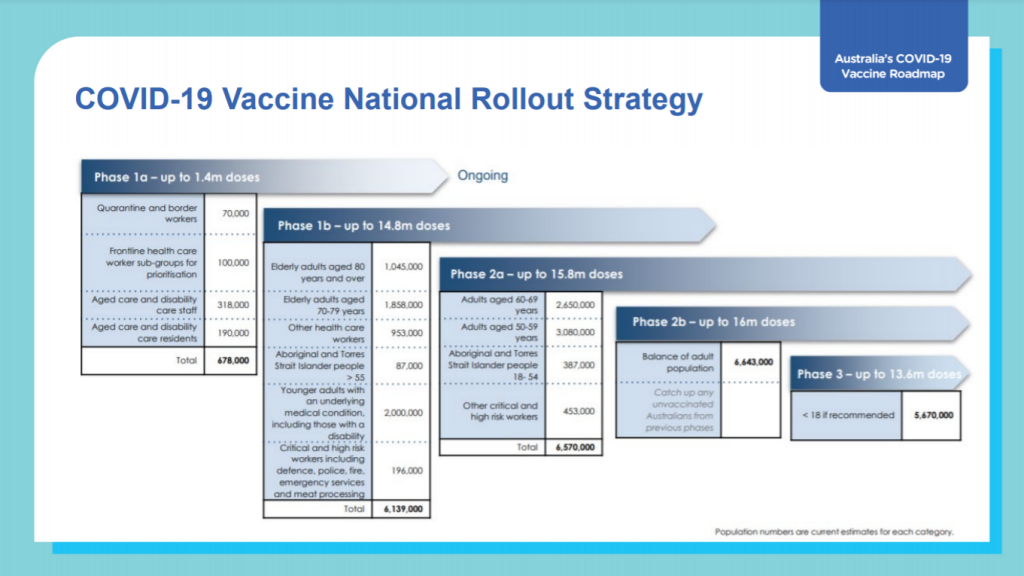 Expectations on lifting the border restrictions and visa procedures
If everything goes as planned, all Australian´s (who wish to be vaccinated) could have had their first dose of the vaccine by October 2021. The airline company Qantas has indicated that they are planning to resume regular international flights starting October 31st, 2021. This is in line with the expected timeframe for Australia's vaccine rollout to be effectively completed.
Our visa consultants have been (virtually) present at information sessions, organised by the Department of Home Affairs and various Australian states and territories on March 12th. During these meetings, the assumption was made that the immigration budget for the 2021-2022 fiscal year will be finalized in May 2021. Following that, the budget for nomination places will be allocated to Australian states and territories, whereupon the new visa year beginning July 1 will hopefully again provide options for overseas candidates.
Would you like to find out about your personal visa options? To do so, please fill out the free and non-binding visa check. Based on the information you provide, we will assess your visa options.
Source vaccination rollout strategy: https://www.health.gov.au/sites/default/files/documents/2021/03/covid-19-vaccine-rollout-presentation-on-14-march-2021.pdf
Bron restart flights Qantas: https://www.qantas.com/au/en/travel-info/travel-updates/coronavirus/qantas-international-network-changes.html